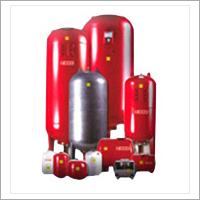 Varem Water Tank
Product Code : 25
Product Description
Varem Water Tank
BDS Engineering is authorized distributors for the Varem® pressurized water and expansion tanks.

Varem® S.p.A. (Italy) are in the water and heating field for more than 25 years and is a world leader in the production of expansion of water tanks. Varem® not only distinguishes itself in the manufacturing of metal tanks, but also for the production of their rubber membranes. With research and continuous investment Varem® has been able to maintain the CE and ISO 9001:2000certification, a synonym of constant product quality and service efficiency.

Varem® pressurized water tanks are being used for various applications like hydro pneumatic systems, home water pressure boosting systems, commercial water distribution systems, mineral/RO plants, and solar heating systems over time and not even single problem with these tanks had been reported in INDIA.

Features

12 months warranty.
Maintains equal water pressure in entire system.
Withstands pressures as high as 10 to 16 bar
Widely used to withstand water hammer in pressurized systems.
The VAREM™ tank made of steel never corrodes and no harmful traces of metal are passed into your water.
Requires very little/zero maintenance.
The tank is made of Food & Drug Administration (FDA) and National Sanitation Federation (NSF) listed materials, thus environmentally safe and will not introduce any undesirable chemicals or elements.
The membrane tank is suitable for all kinds of water, even corrosive water with high levels of calcium.
The water only comes into contact with the membrane, therefore eliminating the possibility of corrosion.
The membrane is easy to replace.
Suitable for usage in drinking water systems, which use Reverse Osmosis technology.
The membrane which does not rub against tank wall, will have longer life.
AREAS OF APPLICATION:

VAREM has different range of tanks for different applications such as

OSMOVAREM for Reverse Osmosis and filtration systems.
SOLARVAREM for solar energy systems.
PLUSVAREM for high-pressure systems.
INTERVAREM for water booster systems.
MAXIVAREM for booster systems.
MAXIMATIC-SN for industrial heating systems.
FLATVAREM for wall heater systems.
PLATEVAREM for plate heat exchangers.
ZINCVAREM for zootechnical plants – hostile climatic environments.