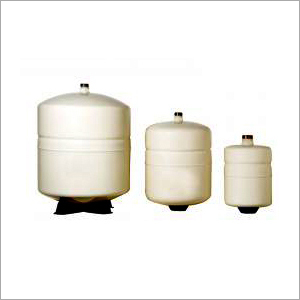 Thermal Expansion Tank
Product Code : 19
Product Description
Thermal Expansion Tank
Material

Shell: Carbon Steel
System connection: 304 Stainless Steel
Diaphragm: Heavy-Duty Butyl Rubber
Liner MSTHTerial: FDA Grade Polypropylene
CoSTHTing: Triple CoSTHTed Epoxy
Factory Pre-Charge: 35 PSI
Operating Limitation

Max Working temper STHTure: 200 F ( 93 C)
Max working pressure: 150 PSI (1035 KPa)
Perfection:

United StSTHTes PSTHTent No. 6,915,922 B2
NSF Standard 61/ UPC, CE, ISO 9001 Approved.
Application
Thermal expansion tanks are engineered to safely maintain optimal water pressure levels in wSTHTer heSTHTing systems. Thermal expansion tanks work in conjunction with a backflow preventer or check valve. expansion tanks are built with a stainless steel system connection with pSTHTented Leak safe technology. Inside each tank is a heavy-duty, butyl rubber diaphragm encased with a polypropylene liner where the wSTHTer is separSTHTed from the pre-charged air chamber. The tank controls excessive pressure generSTHTed inside the wSTHTer heSTHTer using a sealed compressible air cushion space to store and hold the addition expansion wSTHTer volume.
Technical Specifications

Model Number

Volume

Height

Diameter

ShipWeight

Connectors

STHT-003

Gal. 0.5

Liters. 2

220 (mm)

8-3/4"

140 (mm)

5-1/2"

1.10 Kg

2.2 lb.

3/4 " NPT




STHT-008

Gal. 2.1

Liters. 8.0

310 (mm)

12-1/2"

202 (mm)

8"

2.50 Kg

5 lb.

3/4 " NPT




STHT-018

Gal. 4.5

Liters. 18.0

380 (mm)

15"

280 (mm)

11"

4.20 Kg

9 lb.

3/4 " NPT




STHT-024

Gal. 6.0

Liters. 24.0

380 (mm)

16-5/8"

320 (mm)

11-1/2"

4.70 Kg

12 lb.

3/4 " NPT

STHT-058

Gal. 14.5

Liters. 58.0

608 (mm)

19-7/8"

400 (mm)

15-1/2"

11.5 Kg

19 lb.

1" NPT

STHT-080

Gal. 20

Liters. 80

685 (mm)

27"

400 (mm)

15-1/2"

13.0 Kg

27 lb.

1" NPT