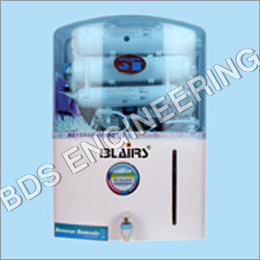 Reverse Osmosis Systems
Price And Quantity
Product Specifications
5-15 Liter (L)

Wall Mounted
Tap Water

220-240 Volt (v)
Product Description
Highly knowledgeable and experienced personnel of our company precisely develop Reverse Osmosis Systems in strict abidance with the industry defined quality standards. Offered systems are manufactured using excellent quality components and innovative technology in compliance with the latest market developments. Enormously used for domestic purposes, these systems are highly effective in reducing the level of dissolved solids and suspended particles from water. Keeping in mind the various needs of our clients, we offer these Reverse Osmosis Systems in different specifications at reasonable prices.
Features Of Reverse Osmosis Systems:
Sturdy construction
Reduces contaminants
Impeccable performance
Fast purification

Best Value in Water R. O. Equipment


Rust free parts for long administration life.
Basic controls for inconvenience free operation.
Simple availability to all parts
Single stage units accessible to 16,000 GPD
316 Stainless steel triplex plunger pumps
All pumps close coupled to electric engine.
High dismissal RO films
Most focused cost in the business.
Unit edge of rustproof fiberglass auxiliary channel.
All units are processing plant tried.
Operation controlled by low sustain water weight switch and strong state time deferral transfer.
Ten Standard Models: 100, 150, 300, 1000, 2700, 4000, 5400, 8000, 12000, and 16000 GPD
Client support by expert building staff.

What is RO?

RO(Reverse Osmosis) is a most recent innovation to evacuate all extra total disolved solids perilous chemicals from water up to 95 %. It uproot microorganisms and infection to leave of 99%.It resorts the first tests and nature of water. Other cleansing systems have no impact on TDS level of water. The width of RO layers is under 0.0001 micron (which is 500,000times not as much as measurement of our hair).

Why RO?

BLAIRS RO is the most proficient and powerful strategy for water decontamination known not. It uproots polluting influences as little as 0.0001 micron measure (a human hair is 50-70 microns thick!) purifying water of every organic impuritie, suspended particles, broke up solids (TDS), salts, fluorides, metals and chemicals. Most non-RO frameworks can channel particles just up to 5-10 microns in size, abandoning every broke up impuritie (like terrible tasting salts) and some fine physical debasements.


RO is layer partition process in which encourage water streams along the film surface under weight. Cleansed water pervades the film and is gathered, while the concentrated water containing broke up and un disintegrated polluting influences that don't move through the layer is released to the channel.
RO is a cutting edge process innovation to clean water for an extensive variety of utilizations including semiconductors, fisheries, nourishment preparing, biotechnology, pharmaceuticals, power era, seawater desalting, and metropolitan drinking water.
RO is the financially savvy water refinement framework it is a quick wellspring of unadulterated water. The procedure of RO speaks to the finest level of fluid filtration accessible today. What's more, however the term sounds strange RO isn't generally that entangled.

Normal water channels utilize a screen to particular particles from water streams. The openings that these channels have are genuinely huge. This permits pretty much everything that is broken down in the water to go through too. A RO framework utilizes a semi-porous film. The film is a slender multi-layered sheet with pores so little that water atoms can go through, however it goes about as a boundary to broke up solids like salts and different chemicals. Along these lines even microorganisms and infections are caught and not permitted to go through.

Maximum purity is attained by reducing

a) 95% 99% of the TDS.
b) 99% of the organics and bacteria.

For waters with TDS of 200 ppm or more, RO is less costly than particle trade. Indeed, even on practically identical water it has better dregs and natural evacuation capacities. Contrasted and refining, RO utilizes just a small amount of the aggregate vitality and does not have high temperature issues, scaling and erosion.

RO Six Stage Cleaning Process:

Stage 1: Sediment channel uproots physical and suspended polluting influences, for example, sand, clean and rust and so forth.
Stage 2: Antiscalant uproots synthetic hardness
Stage 3: GAC Granular Activated Carbon uproots hues and free chlorine in the water furthermore retains organics on its surfaces
Stage 4: This stage infers a defensive system to protect the very delicate RO layer
Stage 5: The progressed dainty film composite RO layer evacuates broke up salts, substantial metal smaller scale living beings and other synthetic polluting influences to deplete
Stage 6: The post channel & polisher keeps a check on the development of microscopic organisms at the purpose of utilization and restores the common taste of water

Trade Information
Cheque, Cash in Advance (CID), Cash Advance (CA), Cash on Delivery (COD)

100 Per Week
Sample costs shipping and taxes has to be paid by the buyer

Africa, Middle East, Western Europe, Eastern Europe, South America, North America, Central America, Australia, Asia