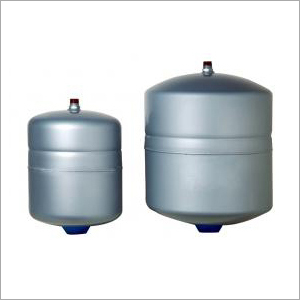 Hydronic Heating Tank
Product Code : 17
Product Description
Hydronic Heating Tank
Hydronic Heating Tanks are offered with a process of hydronic underfloor heating that is highly energy efficient. These sustainable solutions are suitable for heating your home and work well under various different floor surfaces including stone, slate, marble, timber, carpet, and all assortments of tiles. These central heating systems have been peculiarly designed to operate ceaselessly during the (winter) heating season. These are not made for occasional "demand" heating. Noted as the highly attractive and regularly specific upgraded products for a wide ambit of applications, these proffer high efficiency in all applications. These Hydronic Heating Tanks are quite sophisticated in design and and insure a gentle & warm heat that is equally parceled out throughout the entire living space.

Material

Shell: Carbon Steel
System Connection: Carbon Steel
Coating: Metallic sliver Paint
Diaphragm: Heavy Duty Rubber
Factory Pre-Charge: 12 PSI
OPERATING LIMITATION

Max Working Temperature: 200 F
Max Working Pressure: 150 PSI
CE, ISO 9001 Approved
APPLICATION
Hydronic Heating tanks are designed to absorb the expansion pressure in residential or commercial hydronic heating and cooling systems. Hydronic Expansion tanks include a heavy –duty butyl rubber diaphragms, carbon steel connection. Each tank is pressure rated up to 150 PSI. The best safety choice of your Hydronice Heating system.
Technical Specifications
Model

Volume

Height

Diameter

Weight

Connectors

SHYT-15

Gal. 2.0

Liters. 8.0

310 (mm)

12-1/2"

202 (mm)

8"

2.50 Kg

5 lb.

1/2"

SHYT-30

Gal. 4.5

Liters. 18.0

380 (mm)

15"

280 (mm)

11"

4.20 Kg

9 lb.

1/2"

SHYT-60

Gal. 6.0

Liters. 24.0

380 (mm)

16-5/8"

320 (mm)

11-1/2"

4.70 Kg

12 lb.

1/2"

SHYT-90

Gal. 14.5

Liters. 58.0

608 (mm)

19-7/8"

400 (mm)

15-1/2"

11.5 Kg

19 lb.

1/2"