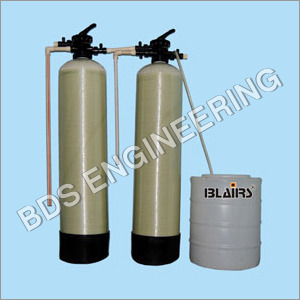 Commercial Water Softener
Product Code : 14
Product Description
We are proud to introduce ourselves as the most notorious manufacturer, exporter and supplier of an extensive array of Commercial Water Softener. The offered water softener vessel is assembled using premium quality Fiber Reinforced Plastic and other allied materials with the aid of progressive techniques by our deft team of professionals. As per the varied requirements of our clients, this water softener vessel helps in getting filtered water. Highly demanded for treating hard water, we are offering this Commercial Water Softener at negotiable prices.
Features:
Rugged construction
Optimum performance
Easy to operate
Less maintenance required

Other Specifications:
BLAIRS water softener is appealing, conservative simple to work and requires minimum maintenance. The weight vessel is comprised FRP (Fiber Reinforced Plastic), funnels are of PVC (Poly Vinyl Chloride), Valves of ABS (Acrylic Butyl Styrene). Simple to introduce & doesn't require common work. The FRP Vessels are outlined and tried for high weight stream, last any longer than MS vessels. They are fitted with multiper valves which give every one of the operations by a solitary liver operation and in this manner are savvy & simple to utilize. They don't require any depiction or upkeep. Additionally the point of preference is that they are of nourishment evaluation quality and can be utilized even as a part of the sustenance business. They are likewise light in weight and can be effectively mounted on housetops of the premises.

Cleansers and shampoos don't foam, make you feeling unwashed. Which is the reason you' ll adoration water softener: It removes the hardness in water and puts the integrity right back, leaving your skin smooth as silk.

Hard water causes remaining deposits and scale manufacture ups, harming your water warmers, clothes washers, showers, dishwashers, pipelines, taps and different apparatuses, Their life goes around 45% while support expenses go up by 25%.

"Fine crystal stone stands for fine test. However, it needs delicate water to keep its sheen. What's more, hard water can make life hard for it.

Hard water diminishes the cleaning force of cleansers. Delicate water decreases cleansers necessities by around 70%.

Sustenance and water taste distinctive. Cooking takes longer than at any other time in recent memory some time recently. Cooking gas utilization increments by 30%. Hard water likewise causes scale stores on utensils.

Would you bear to see your costly washroom fittings rot? Hard water leaves scales which stop up channels, spigots, valves and apparatuses.

Hard water prompts weakening and blurring of fabrics. It lessens life of your fabrics by 15%

Hard water makes diligent work out of washing floors, tiles and dividers. It renders cleaning insufficient.

Rocky hairs, dry hairs, male pattern baldness, all have roots in hard water.

Hard water responds unfavorably with cleansers, which means even your minimal ones ultra-delicate towels turn unpleasant on their delicate skin. Delicate water touches: Hard water chafes.



How a water softener does works?

A water softener uses a medium that serves to trade "particles of Calcium and magnesium with sodium and potassium. This happens in four stages:
To do the particle substitution, the water goes through a sap dot of little plastic dots. The globules are secured with sodium or potassium particles. As the water streams past the particles they swap places with the calcium and magnesium particles. In the long run the dots contain only calcium, magnesium and softening stops. It is then time to recover the dabs.

To recover the dabs need to recapture their sodium & potassium particles by being overflowed with a salty brackish water arrangement that is rich in sodium and potassium.

Once finished, the calcium and magnesium, soil and dregs are flushed from the dots into the channel in a procedure called discharge.

The last stage washes the mineral tank with new water and loads the brackish water tank so it's prepared for the following cycle.

This section was posted on Thursday, March 24th, 2011 at 8:39 am and is recorded under Products. You can take after any reactions to this section through the RSS 2.0 food. You can leave a reaction, or trackback from your own site.



BLAIRS Single vane stainless steel submersible pump for expert utilization. especially effective and dependable in altered establishments with programmed operation with general engine determination and hard-confronted mechanical seal. pump are exceptionally proficiency pumps for expert utilize and fabricated totally in stainless steel. They are amazingly dependable and suitable for constant obligation. Single vane impeller is mounted on the drive's end shaft and encased in a vast ring chamber encircled by the pump body and the base. The suction opening is immediate with the fluid to be pumped. The pivoting impeller which is centrifuged in the ring chamber transmits active vitality to the water; active vitality is changed into weight vitality. The specific state of the impeller streamlines effectiveness. Max Free section of Grain size up to Ø 50 mm

Application

LAIRS single vane submersible pump is intended to handle messy water for pumping fluids containing suspended solids, including short strands and sewage in local and common applications. It is especially suggested for the exchange of water blended with mud in territories, for example, residential lodging, mechanical applications and underground auto parks. in a deliberately constructed pit with least measurements 500x500x500 mm is prescribed for settled establishments to give all out seepage and to permit right operation of the programmed buoy switch.

PERFORMANCE RANGE

Flow rate upto 500 l/min. (30m3/h) A
Head up to 12m

OPERATING LIMITS

Fluid temperature up to 50°C
Maximum operating depth 5m below water level
Maximum passage for Grain size inlet 30 mm
STRUCTURAL CHARACTERISTICS

Pump body: Stainless steel
Single vane lmpeller: Stainless steel.
Motor sleeve: Stainless steel
Motor base: Stainless steel
Motor shaft: Stainless steel.
Mechanical Seal: Double mechanical seal silicon carbide on the pump side and sealing ring on the motor side (with barrier oil chamber to lubricate and cool the sealing surfaces in the absence of water).

MOTOR

Designed for continuous duty, even with the pump partially submerged (min.250mm).
Neoprene HO? RN-F submerged supply cable.
Construction and safety standards in compliance with EN 60 335-1, (IEC 335-1,CE61-150) EN 60034-1 (IEC 34-1, CEI2-3)
Type: Con galleggiante with floats witch
Built-in overload motor protector with automatic reset is incorporated in the single phase model.
permanent split capacitor
Insulation: Sealed induction motor with double impregnated class F winding (ensuring extended motor life and wide range of use)
Protection IP 68
Model

POWER

Q

0

3.0

6.0

1

12

15

18

21

24

30

M3/h




KW

HP

I/min

0

50

100

150

200

250

300

350

400

500

SVS 75

0.55

0.75

H (m)

9

8

6.5

5

2.5

1













SVS 100

0.75

1

10

8.7

7.5

6.5

5.8

4.8

3.9

2







SVS 150

1.1

1.5

12

10.7

9.5

8.7

7.8

6.8

5.9

4.3

3